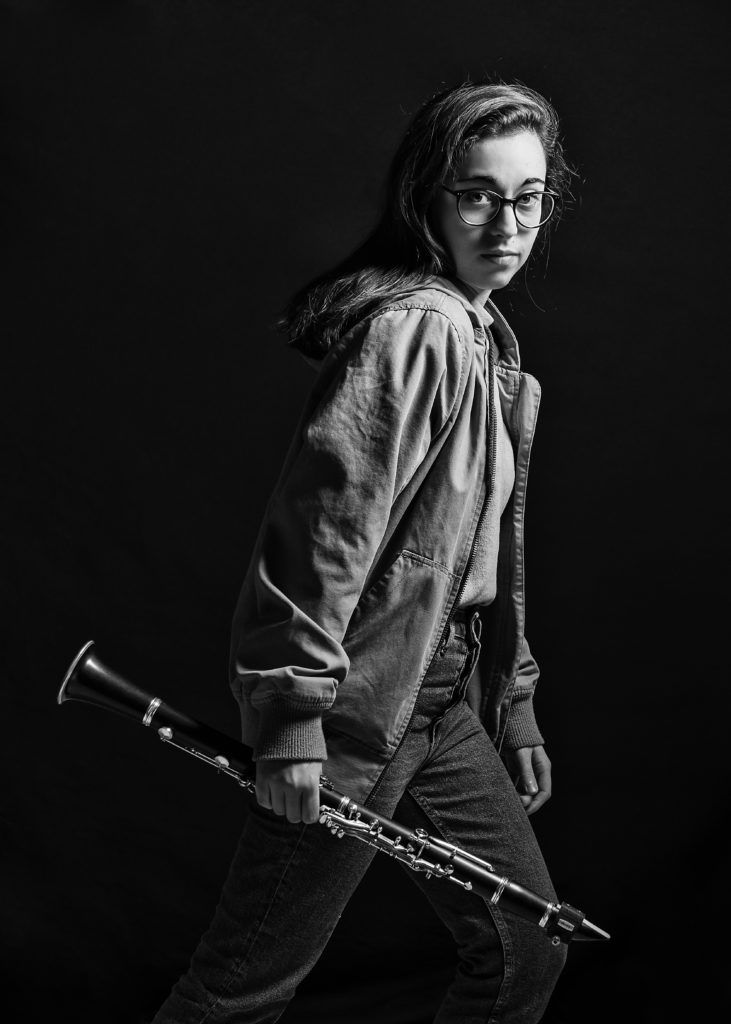 Anais Pasanau Miró is a professional clarinetist with classical background, based in Cologne since 2018.
She performs regulary with her own projects Vilart Ensemble and Mondo Chôro.
In 2020 and 2021, she has been awarded with the "Stipendium des Landes NRW" for freelance artists.
Since 2018 she performs with the Klassische Philharmonie Bonn (DE) and the Folkwang Kammerorchester and teaches actively in her own Online Atelier, as well as in the Musikschule Volmetal, Städt. Musikschule Euskirchen and in the Geschwister-Scholl-Gymnasium Pulheim.
Her musical journey has offered her the opportunity to perform in venues like Konzerthaus Berlin, Herkulessaal München, Schwarzwaldhalle Karlsruhe, Laeiszhalle Hamburg, Meistersingerhalle Nürnberg, Liederhalle Stuttgart, Rudolf-Oetker-Halle Bielefeld, Die Glocke Bremen, Chapel of St.Peter & St.Paul London, Josep Carreras Auditorium Vila-Seca and Hijstek Zaal Maastricht among others.
She began her clarinet studies at the Vila-Seca Conservatory with Miquel Àngel Marin and Laia Sanahuja. Later he continued his studies at the Conservatorio Superior "Salvador Seguí" in Castelló de la Plana (ES) with Venancio Rius and Norma Comes and later at the Conservatory of Maastricht (NL) with Roeland Hendrikx.
In 2017 he moved to Barcelona to study a Master in Classical and Contemporary Music under the direction of Prof. Isaac Rodríguez.
As a chamber musician, she has always been active and open to different projects, founding the clarinet and string quartet Vilart Ensemble (ES) and the Brazilian music trio Mondo Chôro (DE). Passionate about contemporary music, she premiered a movement of Beyond the Music by Julio Domingo, was a member of the Chaves Ensemble for Contemporary Music and the DuoLab Ensemble directed by Claudius Valk.
As an orchestral musician, she gained experience as a soloist with the Orquesta Santa Cecilia (IT) and participated in projects with the JONC Alevins (ES), the JOIC (Joven Orquesta Intercomarcal, ES), the Orquestra de les Mines (ES), the Jove Orquestra Simfònica del Vallès (ES) and the Symphony Orchestra and Symphonic Band of the Conservatorium Maastricht (NL).
Anaïs has participated in several artistic projects at the Jan Van Eyck Academy (NL), with the dancer Marika Meoli (IT) and other artists such as Alexis Blake (USA), Teresa Cos (IT), Daniel Jacoby (PE-LMA), Golnar Abassi (IRI), Urok Shirhan (IRQ), Sanne Vaassen (NL) or David Bernstein (USA).
He has participated in festivals such as Pablo Casals (FR), Extra City (BE), PAS+ Festival Maastricht (NL), Night of Classical Music (NL), Freedom Chamber Music Festival (NL), Open Studios in the Van Eyck Academy (NL), ClarinetFest (ES), Fortea Festival (ES), Woodwind Band Certamen de la Comunidad Valenciana (ES), Intro In Situ 2in1 project (NL), Struinen in de Tuinen (NL) and Jazz Spring Festival Maastricht (NL).
She won first prize at the IV Escenario Internacional de Música de Tortosa "Felip Pedrell" and was able to perform as a soloist. She was also awarded as a composer for the composition "Metamorfosi" in the composition competition "Joves Músics de la Ribera d'Ebre" (ES) and received the Honourable Mention for the composition "Pluja d'abril" a year before.
He was a finalist in the "Fundació Arjau Music Competition" in the category "Catalan music of the XX-XXI century" (ES).